Have you heard about the quilt-alongs happening soon for
The Farmer's Wife 1930s Sampler Quilt
? There are two that I'm aware of, and I'm having trouble deciding which one to do - and wondering if I should really do either.
The first one I heard about is being run by Angie of
Gnomeangel
.
This one starts on 28 September and will be making two blocks per week. The blocks won't be made in numerical order, but in order of difficulty.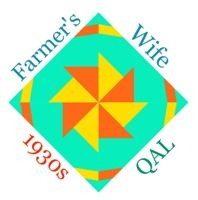 This one will also be two blocks per week, but they will be made in the order they're presented in the book - which I think I prefer. It starts on 14 September.
Being in one does not preclude me from being in the other, but how does one do that without making four blocks per week?
What makes me wonder about how wise it is to participate at all is the fact that I've still got lots of blocks from the first Farmer's Wife Sampler book to get through.
There was a time I didn't mind sewing whatever took my fancy, but I'm trying very hard to get my WIPs and UFOs down to a more reasonable (to me) number. I feel like they're wasted just sitting in the cupboard, and want to get them finished and in use! Then there are all the quilts I want to make and write patterns for... Is there time for everything?
Will you be participating in one of the quilt-alongs? Which one?